Meet the Team
Our hive is made up of passionate and talented individuals dedicated to protecting pollinators and their habitat.
The Bee Conservancy Staff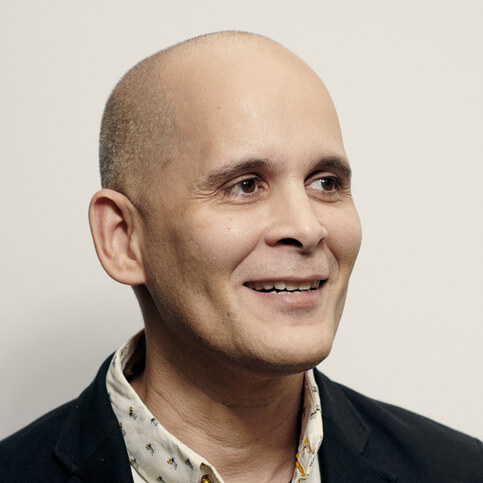 Guillermo Fernandez
Founder and Chief Melittologist
A Master Beekeeper candidate and an urban beekeeper for a decade, Guillermo is our organization's founder and Executive Director. He brings years of marketing experience to us from his time at brands such as Vanity Fair and Vogue. Having grown up in a food desert, he believes bees are the key to transforming our food system and ensuring that everyone has access to healthy, local foods. When he's not at the apiary or speaking at an event, Guillermo is hiking or traveling.
Rebecca Louie
Executive Director
Rebecca is a Catskills beekeeper and certified Master Composter. A lifelong storyteller, she has written for numerous news and lifestyle publications, authored the book Compost City: Practical Composting Know-How for Small-Space Living, and founded The Compostess blog. A former brand strategist and creative director, she has worked with marketing, product, and technology teams to build global businesses. She splits her time between the mountains and city with her dog, Max.
Ryan Davenport
Operations Manager
Joey Rodriguez
Director of Development & Communications
Joey Rodriguez is passionate about conserving nature and helping creatures of all kinds through fundraising and design. With a background in film production, graphic design, development, and operations management, his almost 20-year career has taken him from New York to Florida, Illinois, Maryland, Oregon, and many places in between. He is the author of four novels and two novellas and creates intergalactic art and music in his spare time.
Leta Selmanović
Programs Manager
Leta is a native New Yorker and second generation American who's passionate about urban ecology, food justice, and community-based initiatives. She brings a background in beekeeping, environmental education, and urban agriculture. In her spare time, she shoots video and photography, does community gardening, and cooks for loved ones and mutual aid groups.
Nick Hoefly
Apiary Manager
Nick is a certified Master Beekeeper and co-owner of one of NYC's premiere urban farms, Astor Apiaries. He shares his passion for honey bees and pollinators through teaching and public events/tours at his apiaries. A veteran of the TV/Film industry, Nick discovered honey bees when he took up beekeeping with two hobby hives. Since then his apiaries have grown to over 50 hives in multiple locations all over New York City.
Jennifer Palmer
Habitat Lead
After studying in California and Spain, Jennifer became a cartographer for Lonely Planet before earning a certificate in Horticultural Therapy at New York Botanical Garden. She founded Brooklyn Nature Club in 2016 to focus on developing urban environmental projects.
Mary McCorkle
Special Projects
Mary is a creative event producer and floral designer with a passion for plants and the environment. She has a background in experiential marketing and production and has produced corporate events in NYC and nationwide. In this role, she champions sustainable practices in the event industry.
Cecily Jackson-Zapata
General Counsel
Cecily Jackson-Zapata is an attorney representing nonprofits and social enterprises. She serves on the Board of Directors of Social Enterprise Alliance and Social and Environmental Entrepreneurs (SEE), Inc. and is the founder of Social Innovatus, a nonprofit that helps innovative nonprofits and social enterprises execute their missions and increase their impact. Cecily is a graduate of Stanford Law School the University of Southern California.
Karen Muguku
Community & Administrative Specialist
Karen is passionate about optimizing communication to create and maintain relationships both professionally and personally. With a background in Communication and IT, she thrives in knowledge and information management and the use of technology to make data accessible for learning and creating solutions. When not organizing knowledge, Karen can be found discovering new places and cultures through food, travel and reading.
Bee Sanctuary Staff Beekeepers
Our team of beekeepers care for the hives in our Bee Sanctuaries across New York City. Each season, they perform ongoing beekeeping tasks such as installations, inspections, troubleshooting, protecting against pests and disease, and harvesting honey. Many are graduates from our Beekeeping Apprenticeship program.
Helen Colhoun
Queens Zoo
A Flushing, Queens native, Helen has always loved plants and animals. She's worked as an educator for over 30 years and currently teaches at the Queens Botanical Garden where she learned beekeeping. Helen has been a beekeeper since 2017 and hosts several hives in her yard and manages two hives for a Flushing museum.  
Amy Grumbling
Prospect Park Zoo
Amy has been a beekeeper at The Green-Wood Cemetery since 2017 and lives in Sunset Park, Brooklyn. She's a freelance documentary film editor and studied anthropology and video production at Hampshire College. Amy is also an American Canoe Association certified instructor and trip leader at the North Brooklyn Boat Club. 
Linda & Carmine Feola
Staten Island Zoo
Linda, a retired registered nurse, and her husband Carmine, a security director, have always been interested in the intelligence of the honeybee. They love to pass on their knowledge to zoo visitors through informational lectures and gatherings. They have been beekeeping since 2018.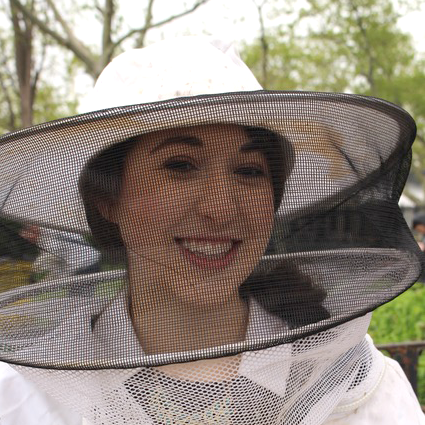 Sarah Langenbach
Governors Island
Sarah, a graduate of our Beekeeping Apprenticeship program, is a co-founder of the bee education initiative at FIT, aimed at increasing bee awareness within the college community. An FIT alumna, she keeps bees on campus and with the team at BeeVillage at The Battery. When not beekeeping, Sarah is a skincare product developer at a leading beauty company.
Jan Mun
Central Park
Jan is a co-founding member of BeeVillage: The Battery and an artist who' worked with bees since 2011 as part of her project, ProfileUS: Invasive Species. Her work combines digital and living interfaces, taking into account the alignments made by the political landscape through the inquiry of species adapting to new or established environments.  
Karen Oh
Prospect Park Zoo
Based in Brooklyn, Karen has been beekeeping for five years and is the founder of Prospect Lefferts Gardens CSA.. She also started a food co-op, and designed, built and managed a school garden in the East Village. Professionally, she is HOUSEOFCAKES, a design studio that works with social impact organizations.
Gary Pelton
Hells Kitchen Farm Project
A beekeeper for 12 years, Gary Pelton has worked with Harlem Grown and the 116th Street garden in Manhattan. Before moving to NYC, Gary cared for bees in his backyard and helped the local beekeeping organization in Pittsburgh with informational events at farmers markets and the city's botanical garden, Phipps Conservatory.
Ian Sklarsky
Hells Kitchen Farm Project, Governors Island
Ian Sklarsky has loved insects since he was a child, and a few years ago he decided to devote his life to educating people on native and honey bees. A Brooklyn-based artist, Ian works in blind contour (using a single line without looking at the paper), and has made a following with his portraits and murals.
Richard Woodward
Central Park Zoo
Richard grew up outdoors in his native country of New Zealand. Transplanted to Brooklyn, NY, the local community garden provided Richard both community and the chance to actively tend a small plot — an opportunity that led to managing several beehives. When not in a veil, Richard works as an architect planning human "hives."