Habitat loss is one of the greatest threats to bees today. We create safe havens for bees to thrive and ecosystems to flourish.
Building Better Ecology With Bee Sanctuaries
Our Bee Sanctuaries consist of honeybee hives and/or native bee houses placed in zoos, urban farms, and other green spaces where they serve as valuable environmental and educational resources. Host locations provide protected habitat that includes food and nesting sites for bumble, mason, carpenter, leafcutter, honey and other bees, and sites are maintained by The Bee Conservancy's dedicated team of Sanctuary Beekeepers. 
By placing Bee Sanctuaries in public places, we invite communities to
observe bees in action, fostering public support for critical pollinators while bolstering local biodiversity.
Through programming that includes educational talks, classes, wildlife walks, citizen science initiatives and more, our Bee Sanctuaries engage thousands of people, inspiring environmental stewardship while educating on the importance of bees.One third of our Bee Sanctuaries are placed in close proximity to urban farms or community food gardens where they'll help increase crop yield and support local food systems.
We eagerly look forward to expanding our Sanctuary sites. If you are interested in hosting or funding a Bee Sanctuary, please contact us.
Central Park Zoo
Location: Central Park, Manhattan (NYC)
Established: 2019
Lions, tigers, and bees — oh my! The country's second oldest zoo resides in Central Park, the green oasis at the heart of Manhattan's concrete jungle. Here, in this 6.5-acre wildlife refuge that gets one million visitors a year, our apiary helps pollinate the lush gardens within the Zoo and surrounding park lands, supporting local ecology and the Zoo's vital conservation work. Though not on public display, our hives have been incorporated into educational opportunities like the 2019 Conservation in Action Camp for 9th – 12th graders. In addition to learning about animal husbandry, vet care, and global ecosystems, students learned about the importance of pollinators in urban spaces and ways they can help protect the environment.
Governors Island  
Location: Governors Island (NYC)
Established: 2018
A former Army and Coast Guard command center, Governors Island is now a popular destination for arts, recreation, education, and dining. The Island's commitment to sustainability manifests through its Zero Waste philosophy and nurture of community organizations like those at The Urban Farm. Here, alongside lavender fields, compost projects, farm animals and teaching farms lies our Bee Sanctuary. With honey bee hives, native bee homes, and native flower beds, our tranquil space invites visitors to observe bees in their native habitat, offering a much needed break from city life. Join us for Hive Dives, volunteer opportunities, community science and more! Open to the public weekends from 12-4PM, May to October.
Hell's Kitchen Farm Project

Location: Hell's Kitchen, Manhattan (NYC)
Established: 2021
Hell's Kitchen Farm Project is an urban rooftop farm in Hell's Kitchen, Manhattan, managed and run by volunteers. HKFP is the outgrowth of community discussions concerning nutritional security, especially scarcity of affordable fresh produce, in Hell's Kitchen. Their mission is to create a more food secure urban community through collaborative farming, education, and community initiatives. They do this by growing fresh food on a previously underutilized rooftop for distribution through a local food pantry, providing community nutritional education, and organizing a Community Supported Agriculture (CSA) program. The 8′-tall Empire State Building beehive was created by COOKFOX architects.
Liberty Park, World Trade Center 
Location: Lower Manhattan (NYC)
Established: 2022
Overlooking the World Trade Center campus, Liberty Park is home to the St. Nicholas National Shrine and the famous bronze sculpture known as The Sphere. Through a partnership with the Port Authority of New York and New Jersey (PANYNJ), the park serves as the site of our first Native Bee Sanctuary, dedicated exclusively to fostering ground- and cavity-nesting bees. TBC collaborated with PANYNJ to plant pocket pollinator meadows with 12 new species of perennial native wildflowers and established new maintenance practices to promote ground-dweller safety. We installed four of TBC's exclusive native bee houses, handcrafted by Brooklyn Woods using certified sustainably sourced wood and other eco-friendly materials.
The Queens Zoo
Location: Flushing Meadows Corona Park, Queens (NYC)
Established: 2019
The honey bees in our apiary at the Queens Zoo keep good company situated in the llama and alpaca field, and they've even provided honey and honeycomb to feed the Zoo's Andean Bear. When they aren't flying over iconic landmarks like the Unisphere and Arthur Ashe Stadium, home of the U.S. Open, they serve as educational stewards during public hive inspections and pollinate the Zoo and park grounds. Our bees and children's magazine, Abuzz! News from the Hive, has been integrated into the Zoo's educational program, serving audiences in the most diverse county in the nation. We have also provided the Zoo with native bee houses for their pollinator gardens.
Staten Island Zoo
Location: Staten Island (NYC)
Established: 2019
A force in New York City's green efforts, Staten Island is home to the 2,800-acre Greenbelt and Freshkills Park, a public park developed atop a landfill reclamation project. It's also the site of the Staten Island Zoo, touted as the "First Educational Zoo" for pioneering the inclusion of education goals into its mission in the 1930s. The 8-acre oasis houses two honey bee hives where our beekeepers host Q&As and explain hive inspections to curious visitors. Our Bee Sanctuary is also integrated into the Zoo's annual Pollinator Palooza, social media storytelling, and is a site of our BeeBlitz citizen science events.
Prospect Park Zoo
Location: Brooklyn (NYC)
Established: 2020
Fruit bats and butterflies aren't the only pollinators at the Prospect Park Zoo. The Bee Conservancy has two honey bee hives in the butterfly garden that help pollinate local lush foliage, the Zoo's fruit trees and vegetable garden, and the 52-acre Brooklyn Botanic garden next door. The 12-acre zoo averages 300,000 visitors annually, and in addition to experiencing rare animals, they can learn about plants the horticulture team chose to attract migrating birds, bees, and butterflies. Prospect Park is home to 59 native bee species, which is 28% of all bee species east of the Mississippi River.
Our Bee Friends Forever Apiaries (Bee.F.F.s)
For many years, the talented beekeepers at these sites partnered with The Bee Conservancy to bring healthy bees, happier plants, and educational opportunities to the surrounding area. Though no longer official TBC Bee Sanctuaries, these apiaries have been essential to the growth of both this organization and New York City's beekeeping community, and we're honored to include them as our Bee.F.F.s.
A glimpse into our Sanctuary at Battery Park in NYC.
BeeVillage: The Battery 
Location: Lower Manhattan (NYC)
Established: 2011
Nestled among the skyscrapers of the Financial District with views of the Statue of Liberty, The Battery is an urban oasis that is home to a public park, our BeeVillage apiary, and an urban teaching farm that engages schools and donates to food banks. BeeVillage houses four honeybee hives that pollinate The Battery's 195,000 square feet of perennial gardens and farmland. Each hive is designed to reflect the architectural journey from New Amsterdam to New York City, from farmhouses and Dutch-style step gables to tenement-style apartment buildings, designed under the guidance of artist and beekeeper, Jan Mun. The white beehive in the front pays homage to the John Bowne House, a historic home built in 1661 that is one of the oldest in New York City and the oldest in Queens.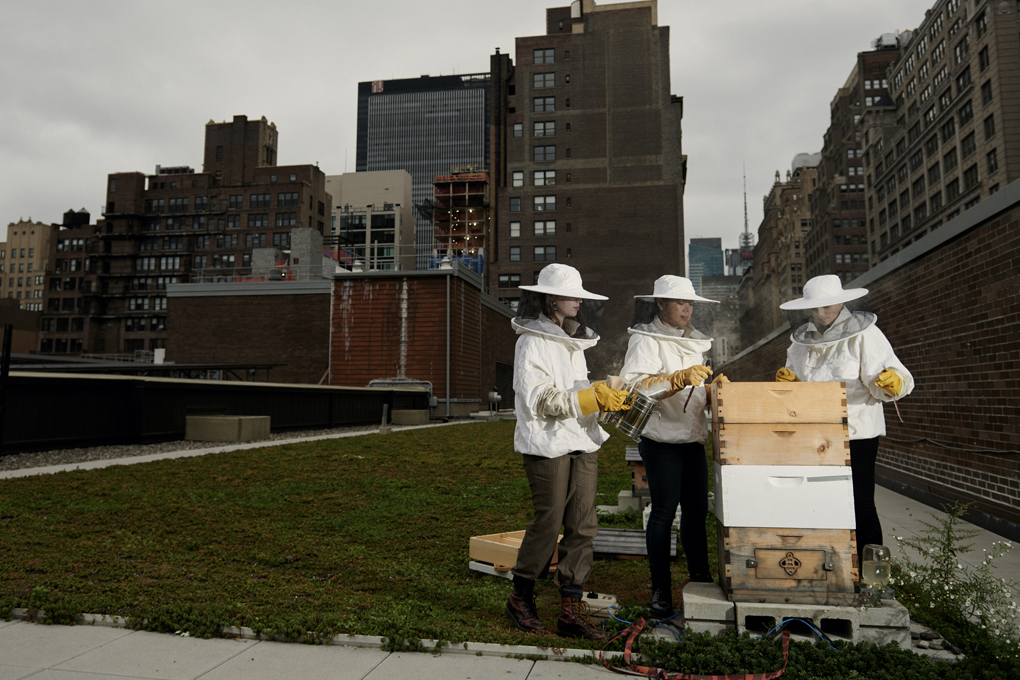 Fashion Institute of Technology
Location: Chelsea, Manhattan (NYC)
Established: 2017
One block away from Manhattan's bustling Penn Station sits an ecological haven six stories above the busy sidewalk. Our honey bee apiary sits on the green roof of the iconic education institution, which has more than an acre of blooming sedum and is part of a pollinator corridor that includes Madison Square Park, the Flower District, and the High Line. This Bee Sanctuary introduces future fashion and beauty industry leaders to sustainable, natural methods, as beekeepers share how to harvest bee-derived resources for projects, products, and designs. Each year, students help harvest the honey, which has been bottled and also used in an FIT-branded lip balm. Our honeybees also aid the Natural Dye Garden at FIT by pollinating rooftop plant life, as well as potentially offer a new source of natural dye through bee pollen and propolis.
Cathedral of St. John the Divine
Location: Upper West Side, Manhattan (NYC)
Established: 2012
The largest cathedral in the world, St. John the Divine is renowned for its community-focused programs including performances, exhibitions, a soup kitchen and its annual St. Francis Day Blessing of the Animals, in which creatures of all shapes and sizes are brought to be blessed. The cathedral grounds are home to three peacocks and a family of red-tailed hawks, as well as  our gentle honey bee hives, which were installed in 2012 as part of a "Blessing of the Bees" ceremony performed by the Right Reverend Mark S. Sisk, then Bishop of New York. Nearby school groups visit the hives under the guidance of our beekeepers, who teach the children about the environmental connections between bees as pollinators and the cathedral's Biblical Garden.